What happens if you don't wash your bedsheets? Not cleaning your sheets often enough can lead to dirt build-up which can ultimately cause infections.
During sleep, we sweat and body oils are released. Additionally, any soil that might be on our bodies transfers to our beds. This means it is possible to find saliva, urine, and other bodily fluids in the fibers. Did you know that athlete's foot and other fungi can be transferred on fabrics?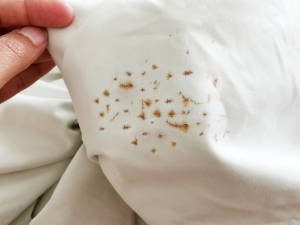 Even those who are single are never truly sleeping alone at night! You could be sharing your bed with bed bugs, dust mites, mold, lice, fungus, ants, e.coli and MRSA – all of which are pretty gross. There are millions of dust mites living in everyone's beds, and these eat your dead skin cells and make your mattress heavier over time.
Infrequent cleaning of sheets and pillowcases allows the fluids to seep into the pillows and mattresses, and those are much more difficult to clean than sheets which can just be tossed into the washer.
Leaving your sheets on your bed allows dead skin cells and sweat that comes off your body to build up. Would you believe that some people sweat more than a liter every single night?
That's why it's important to clean your sheets at least every two weeks, but preferably once a week. Use the hottest temperature recommended by the manufacturer to ensure that you are getting your sheets as clean as possible. Using a mattress cover can help lengthen the life of your mattress by protecting it from dust, dirt, and debris. Finally, even with proper care and cleaning, make sure to replace your mattress at least every 8 years, or more often if you find it is no longer as firm or supportive if it once was.